Jane Anson, Inside Bordeaux
Jane Anson, Inside Bordeaux
The châteaux, their wines and the terroir
Het nieuwe standaardwerk over Bordeaux is een must-have voor de Bordeaux-liefhebber. Anson neemt de terroirs als startpunt, met geweldige kaarten. Van daaruit legt zij de link naar de wijnen die we kennen. Of nog niet kennen.
Verpakking
Beschermende boekverpakking; verzendkosten boek €5
Jane Anson, Inside Bordeaux
We kennen Jane al vele jaren, en daarom is het extra leuk om haar nieuwe boek te kunnen aanbieden. Het woord standaardwerk is overigens meer op z'n plaats.
Inside Bordeaux
is een encyclopedisch boekwerk waar je als wijn- en vooral Bordeaux-liefhebber eindeloos in kunt dwalen: de beschrijvingen lezen van bekende en onbekende châteaux, de facts checken, of een van de 58 gedetailleerde landkaarten bestuderen. Ook bevat het boek nieuwe luchtfoto's. Inside Bordeaux is uitgegeven door
Berry Bros. & Rudd
, evenals het onmisbare
Inside Burgundy van Jasper Morris MW
.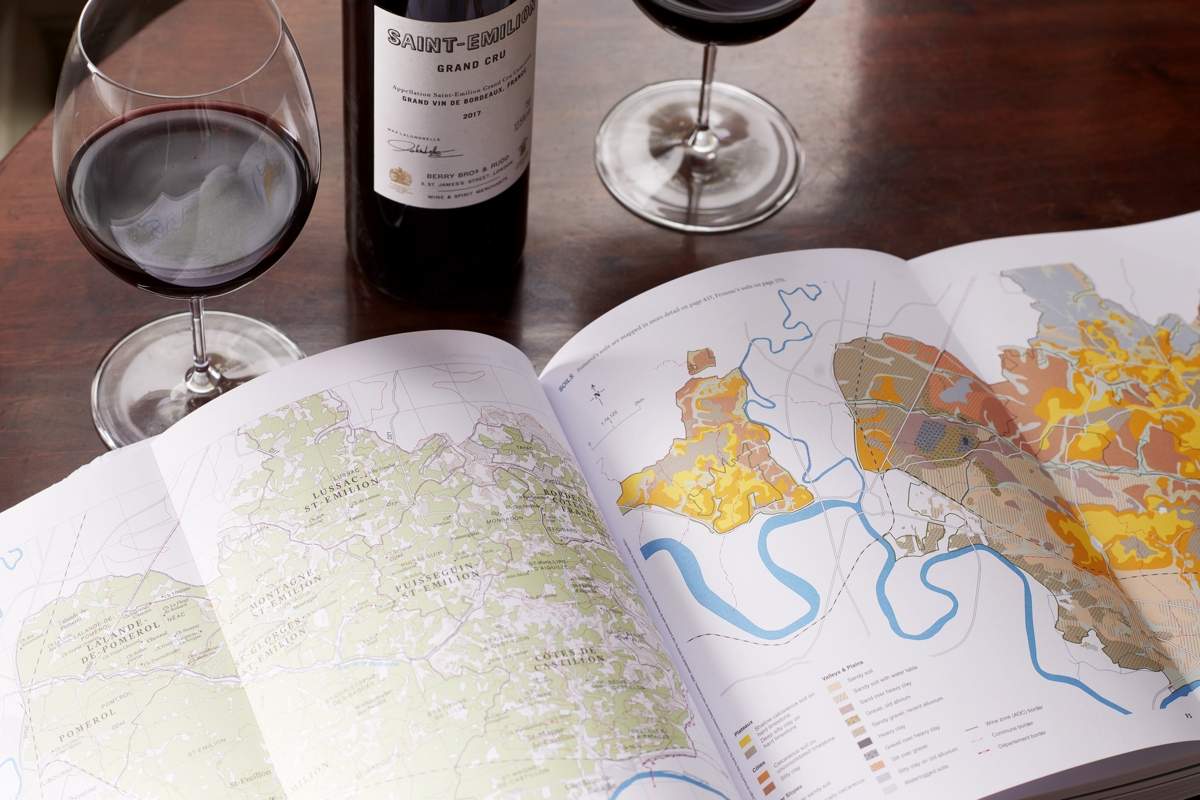 Inside Bordeaux: topografische kaart Bordeaux rechteroever, en kaart met de bodems
Jane Anson: "This is the first book about Bordeaux (certainly in the English language) to have such a focus on the terroir of the region – and more importantly to draw clear and useable links between the soils/microclimates and why the wines taste the way they do. To create the book we have worked with Professor
Kees van Leeuwen
and other leading experts to produce 58 entirely new maps, illustrating for instance, the gravel terraces of the Left Bank, and the limestone plateaux of the Right Bank, and used this to explain what these phenomena mean for the wine in the glass and for different vintages. The maps are beautiful as well as useful, and unfold so that readers can see, side by side, the landscape, the châteaux – and the terroir that lies beneath them."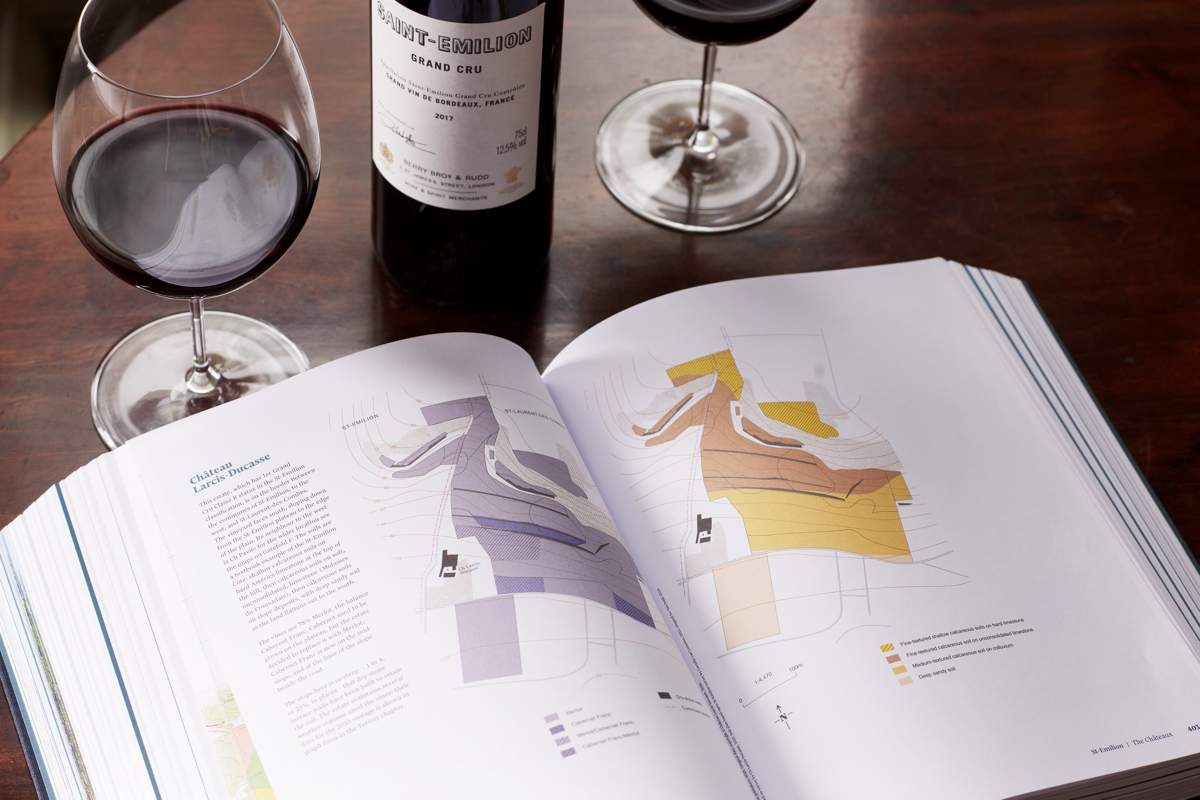 Inside Bordeaux: kaart met aanplant druivensoorten, en kaart met bodems Larcis-Ducasse
Fiona Beckett
,
The Guardian
(september 2020): "A magisterial work you should definitely persuade someone to give you if you're a fan of the region or want to educate yourself about it."
Adam Lechmere
,
Club Oenologique
(april 2020): "This is a work of formidable scholarship, well-indexed (always a sign of serious purpose) and backed by some of the most eminent academics working in Bordeaux today. Eschewing the weighty academic style in favour of accessibility, it sets out to bring a new perspective to the world's most famous wine region and it succeeds. This is a book no Bordeaux lover – or wine lover of any stamp – should be without."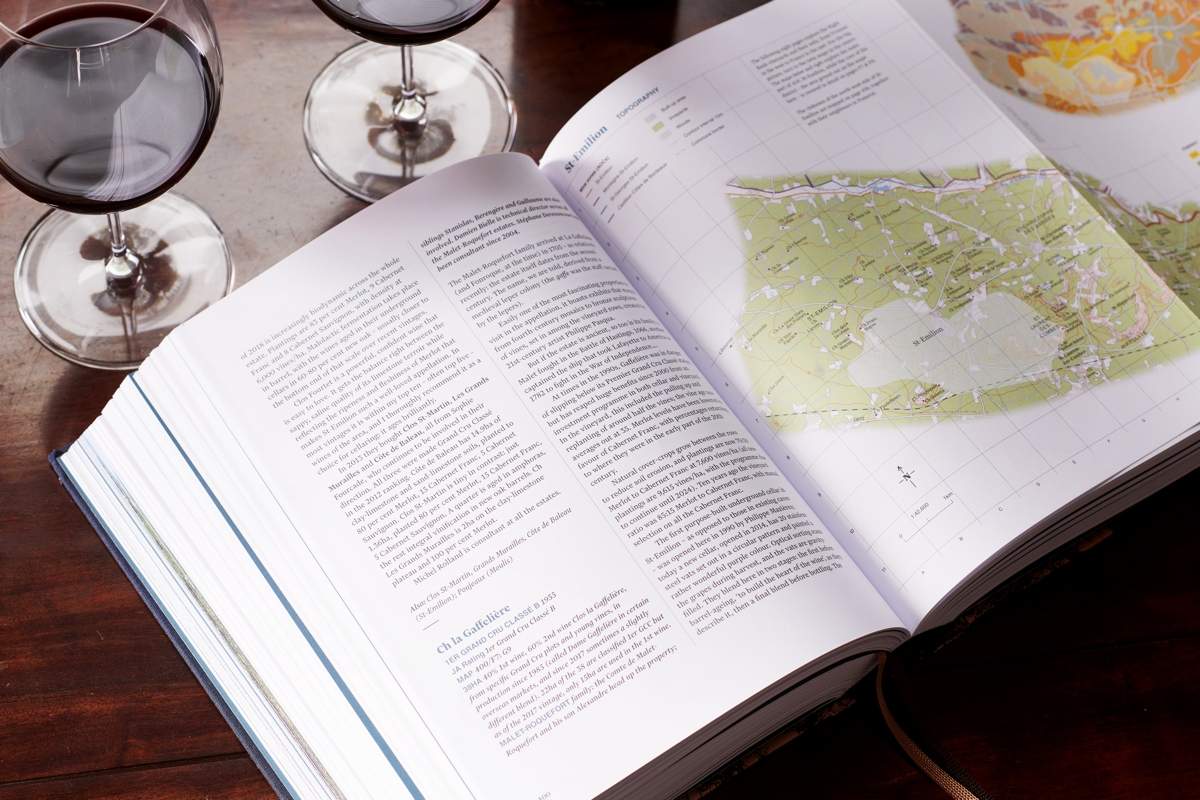 Inside Bordeaux: Saint-Emilion topografische overzichtskaart
Jane Anson: "Of course, I have included the classified estates in the book, but readers will also find in-depth write-ups of brilliant emerging properties in Fronsac, Lalande-de-Pomerol, Francs Côtes de Bordeaux, Haut-Médoc and so on. I have tried not to focus too much on the history and more on what is happening in these estates today – who is running them, what is new, why you should care, what you can expect the wines to taste like. There are over a thousand châteaux and wines in the book, and every single one I have chosen because I think there is something interesting to say about it."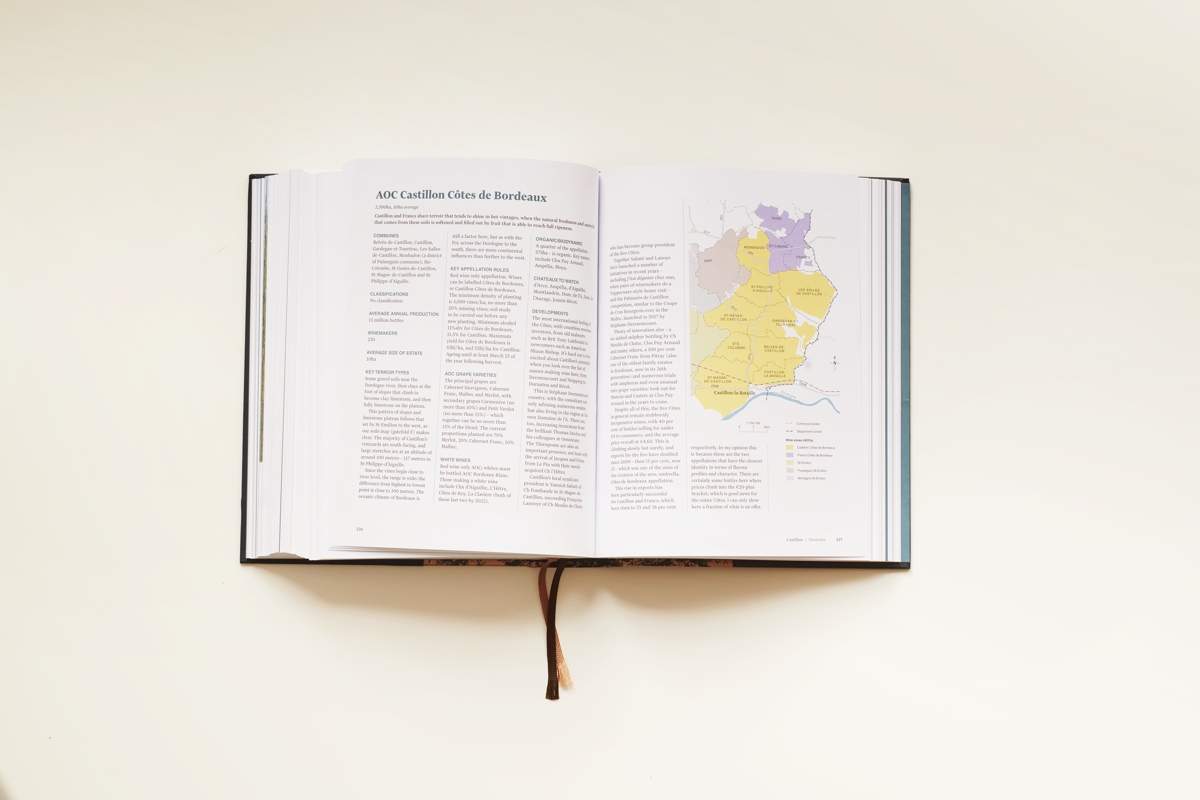 Inside Bordeaux: Castillon, de verschillende wijnzones
Bij het kiezen van wijn is dit boek een bron van inspiratie. Ook minder bekende, opkomende domeinen krijgen veel aandacht van Anson. Later, bij het opentrekken van een fles, is het opnieuw leuk om Inside Bordeaux erbij te halen. Over het terroir, over de bodem te lezen bij het proeven en drinken van een wijn. Om de kaarten te bekijken en precies te zien waar een wijn vandaan komt.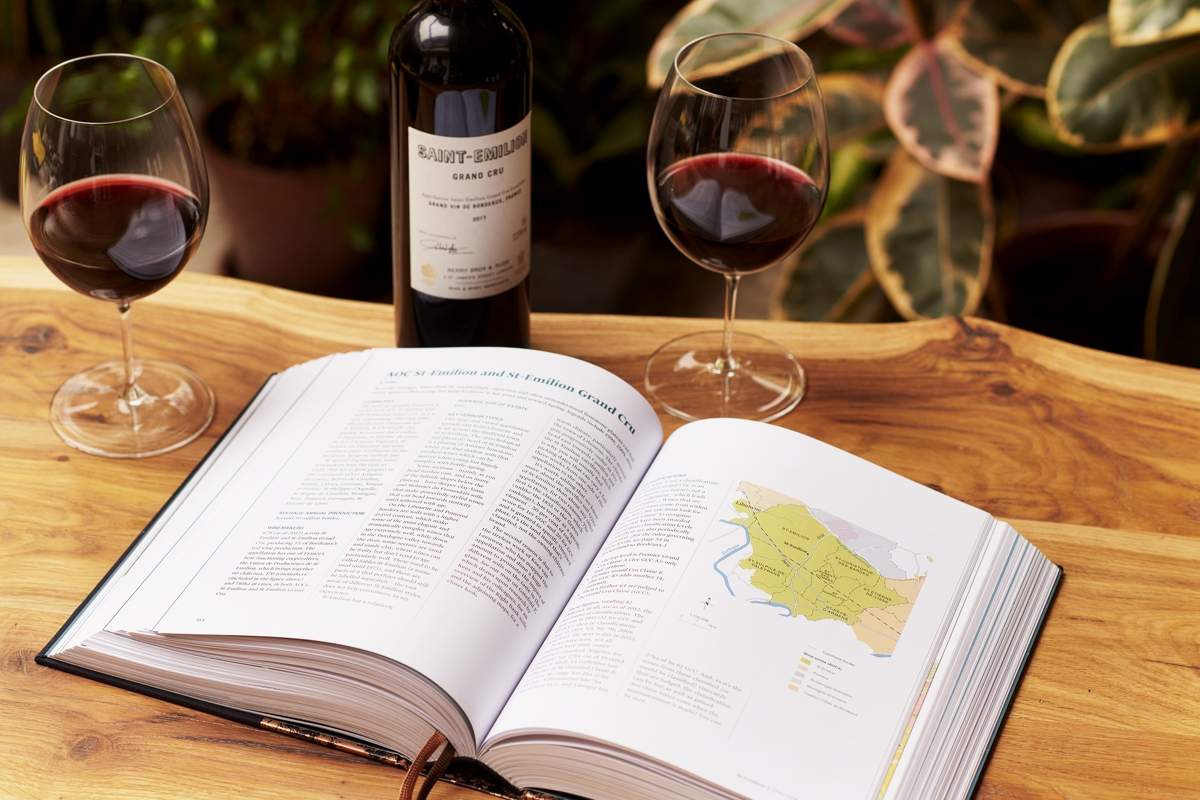 Inside Bordeaux: de appellations Saint Emilion en Saint Emilion Grand Cru
Kees van Leeuwen, veel bekender in Bordeaux dan in Nederland, geeft een Nederlands tintje aan dit boek. Hij staat aan de basis van de meeste terroir-kaarten in het boek. Bevindingen uit recent onderzoek door de Universiteit van Bordeaux vinden hun weerslag in het boek van Anson. Van Leeuwen is een van de professoren van wie de onderzoeksresultaten in de vele kaarten - letterlijk - inzichtelijk worden gemaakt. Voor de kaarten-fetisjist is dit boek een walhalla.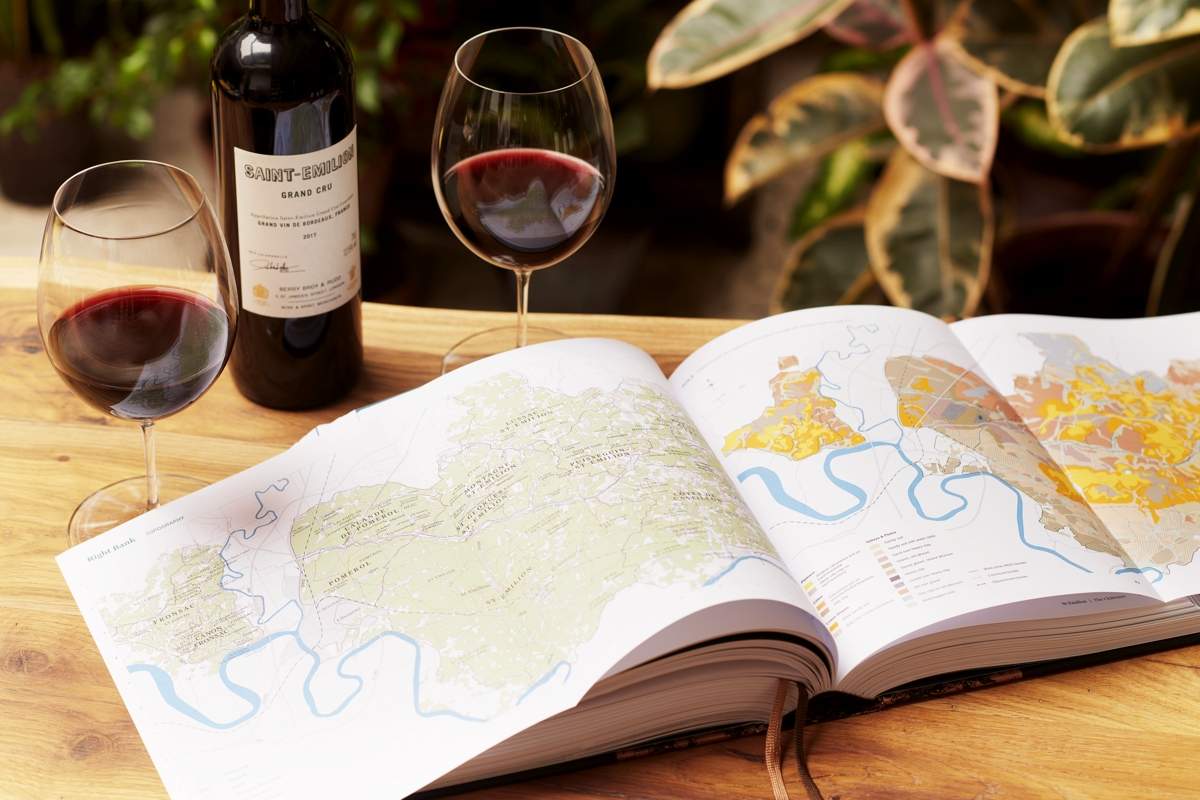 Inside Bordeaux: topografische kaart Bordeaux rechteroever, en kaart met de bodems
De uitklapkaarten maken het boek helemaal af. Tenslotte een tip: dit boek is natuurlijk ook een tamelijk ideaal cadeau voor een wijnvriend of -vriendin. Via onze site kunt u het boek direct als cadeau aan iemand toesturen, met een persoonlijke boodschap erbij. Het wijst zich allemaal vanzelf in de checkout.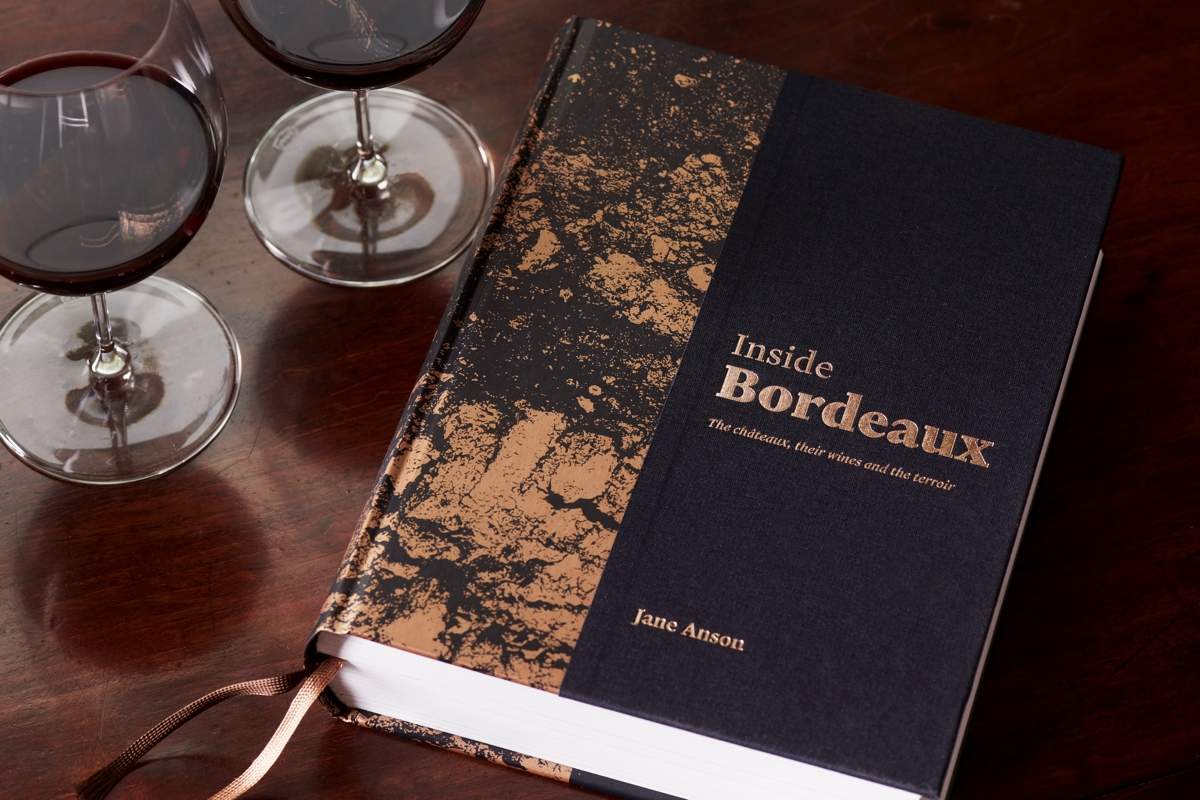 Inside Bordeaux: ook dicht ziet dit monumentale boek er... monumentaal uit
Jamie Goode
,
Wine anorak
(11 June 2020): "Few wine books can be described as category busters. This term refers to the situation where competitors are totally outflanked in business: someone is doing something so well, or has such good first-mover advantage, that they rule a particular category, and can't be beaten. There are three that have done this in the past: Hugh Johnson's World Atlas of Wine; Jancis Robinson's Oxford Companion to Wine; and the Vouillamoz/Harding/Robinson collaboration Wine Grapes. Now there's a fourth: Jane Anson's Inside Bordeaux. This really is a brilliant book."
Rose Murray Brown MW
,
Rose Murray Brown Masterclass
(15 September 2020): "A refreshing new look [...] it is packed to the gunnels with up-to-date information and - crucially - written by someone who has worked in the region for 16 years. [...] The core of the book, which makes it so useful for winemakers, students, sommeliers and those who pull the corks, is the inclusion of recent ground-breaking research by Professor Kees van Leeuwen and experts at University of Bordeaux to profile key chateaux and appellations' terroirs - published for the first time in this book. [...] She profiles 1000 personal favourite chateaux with bang up-to-date guide to owners and their vineyard practices. [...] She is keen to promote organic and biodynamic estates, the rise of sustainability in St Emilion, biodiversity project in Margaux and innovative practices of next-generation winemakers. [...] What I particularly liked in this book – useful for anyone looking beyond classic appellations – is her focus on neglected corners: brilliant emerging properties in Fronsac, Lalande de Pomerol, Francs, Cotes de Bordeaux, Haut Medoc & so on."
Verder werd Jane's boek in de Gourmand Awards 2021 geprezen als "Best in the World: Best of the Best". Het stond ook op de shortlists voor de 2021 André Simon, de Fortnum & Mason en de Louis Roederer Awards. En in augustus 2023 heeft de Wine and Spirit Education Trust het boek opgenomen in hun lijst onmisbaar leesvoer voor hun WSET Level 4 Diploma in Wine.
Levering en retouren
We bewaren onze wijnen onder de best mogelijke omstandigheden in onze opslag met meer dan 100 jaar oude wijnkelder. Van hieruit leveren wij aan restaurants en particulieren.
U kunt zelf een leverdatum kiezen. Orders op maandag t/m donderdag voor 15 uur: levering vanaf volgende dag. Is de levering in Amsterdam? Dan kan het vaak eerder dan wat de shop aangeeft. Neem even contact op.
Kosteloze verzending voor orders vanaf €175, anders bijdrage verzendkosten €8,50. Op afspraak ophalen kan ook. Voor retouren neemt u contact op.